You're engaged! Congratulations… what's next? Now you want to plan a destination engagement party, a wedding and a honeymoon. How will you fit it all into an already over scheduled day? We have a specialist ready to work with you to plan and schedule all of your upcoming 'firsts' so that you have the time to enjoy them.
Trust the experts, our consultants have the inside scoop and the tools to assist you with all of your needs right up to and including the wedding. Whether it is planning a shower, assisting with bridal registry selections, helping to coordinate arriving guests or making your own travel plans. Our wedding professionals are ready to share their knowledge with you so that every stage of your planning goes smoothly and is 'bride tested'.
It is essential to maximize your time and investment. Wedding costs and all the trimmings add up. You want a personalized experience. We offer a one-of-a-kind service that will provide you with recommendations to help you control costs and manage the overwhelming details when selecting your venue, entertainment, transportation and travel partners.
Celebrate your love as your get to know each other better in paradise!
Your Honeymoon is a very special vacation. It's a trip you'll never forget, that you'll someday tell your grandchildren about.
---
When deciding where to register for your wedding gifts, include your Honeymoon as an option for your guests! They can choose to contribute towards an upgraded hotel room, a special meal, an excursion or even flowers and champagne delivered to your room.
Best of all, when you book with Total Advantage, your Honeymoon Registry is absolutely FREE!

Your Honeymoon Registry can be attached to your Wedding Website, which we help you create when you book your Destination Wedding with Total Advantage. With this easy-to-use template, you can share your story with your wedding guests, including a photo gallery, a section about the Proposal and even your Honeymoon plans. Provide your guests with details about your ceremony, reception, gift registry and RSVP.
It's quick, it's fun and it's FREE when you book with Total Advantage
"We had so much fun at the Sandals Royal Plantation, and we can't wait to go there again"
Click the image to read all about Candice & Joe's Dream Honeymoon in Jamaica
---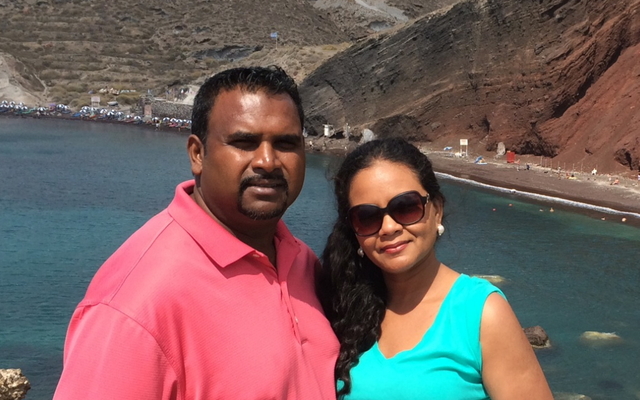 "A few months ago, I reached out for assistance in finding a destination for my honeymoon as a surprise for my wife. Once I gave a vague idea of places we would like to visit, Liz took over the rest …"

Click the image to read all about Mohamed & Nat's honeymoon in Greece